Nursing Home
Our Work started in September 2008  when the Holy Nation Church had the desire to establish a  time of worship and sharing the word of God at Havelock Court Nursing Centre at Brixton area.  Our aim is to help those who are residents with the love of God and giving them the hope that we find in Our Lord Jesus Christ.  Our Activities are: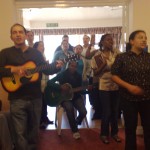 * Time of Worship
* Sharing God's Word
* Praying for needs
The first two years that we were involved with used to go every 2nd Saturday of every month but God has been gracious to us that we are aloud to be there every Friday  for the last two years. We have seen the work of God in the lives of the residents and of the staff also. Do you want to be part of this wonderful ministry. Yes you can! Pray for the team that goes there. Pray for the Power of God to touch lives and heal, restore and bring peace and love to this Nursing Care Centre!